MEET LAUREN LABERGE
I believe therapeutic massage is an integral  piece of every person's healthy body maintenance. Massage tune-ups and specific bodywork, for  chronic pain or injury, keep your body working at its best capacity. This is why I strive to provide my patients with the highest level of care and education/information to achieve and maintain a healthy and happy body.
I strive to be my best and to continue educating myself. A positive mindset and maintaining a healthy body with regular exercise, outdoor activities and travel is at the heart of who I am and what I do. Over the years, I figured out how to create my best life, full of zest, family, friends, kindness, and gratitude.
I endeavor to connect with my patients and their needs.  As a survivor of a car accident in my late teens I've experienced many types of orthopedic surgeries and subsequent therapies to regain and continue movement.
I understand how it feels to come back to health. My 2015 bilateral knee replacement was my last major surgery.  Hard work and perseverance had me moving and hiking in Ireland and Maine within the year and then on to a 13 mile hike in Norway in 2019.  Massage and strength training worked for me; it felt right for my body.
Everyone has something that works for them.  What feels right for you?  How can I support your coming back to health?
Meet Tess
Tess is an adorable, friendly Australian Labrodoodle.  She is my first puppy!  Tess came to live with me when she was only 10 weeks old.  Together, we attend training classes and work toward our goal of becoming a certified therapy dog.
Tess visits the office from time to time and will eventually be a full-time employee.
Outside of work we love to walk, hike, swim, play and nap.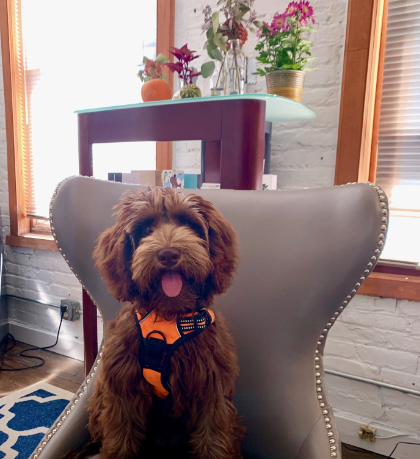 My Credentials
I have been practicing therapeutic massage since receiving my New York State Massage License in 2006. I am a professional member of the American Massage Therapy Association and I participate in ongoing training in advanced massage techniques including:
Effective Treatment for Sciatica ~ Gary Adkins, NCTMB, CMI

Exploring Fascia Through Micro Fascial Facilitation, Active Fascial Stretching and Bindegewebs Massage Basics ~ Dale Perry, LMT

Manual Therapy for Low Back Pain: Hands-On Treatment for Lumbar Sacroiliac & Pelvic Dysfunctions ~ Ted German, PT, DPT, CIMT, CPRS

Entrapment vs. Impingement: Syndromes in the Upper and Lower Extremities ~ Erika Clinton, LMT, B.S. in Kinesthetic Neuroscience

Biodynamic Craniosacral Training ~ 3 year/700 hour study      

Turtle Back Craniosacral Education

~ Margery Chessare, LMT, BCST
Advanced Training in Biodynamic Craniosacral Therapy with

Michael Shea, PhD

CranioSacral Therapy 1 ~  Upledger Institute International

Fascia and Muscle in Myofascial Pain Seminar ~ Thomas Findley MD, PhD

A Symposium on the Fascial Pelvis ~  Lisa M. Satalino, PT

Lymphatic Facilitation for Upper Extremities ~  Dale Perry, LMT, CLT

Medical Massage – Whiplash ~ Dale Perry, LMT, CLT

Introduction to Myofascial Release Principles and Techniques ~ Lisa M.  Satalino, PT
Travel
I continue to learn and explore outside of the office too! My time is spent with family and friends – cooking, hiking, attending farmer's markets, going for drives and  travelling. From beaches to snow capped mountains I enjoy talking to people native to an area/country, learning about their history, discovering their culture and cuisine and traversing their lands!